Clinics 
Onsite Clinics 
Onsite health clinics for your workplace help keep your employees from getting lost on the trail of the traditional healthcare process. This improves your employees' health and wellbeing while preventing overtreatment and avoiding unnecessary claims.
Medcor's onsite clinics also provide health navigation — guiding injured and sick employees to the correct level of in-network care only when medically necessary and their needs cannot be handled by the onsite clinic's scope of care. This approach provides a better experience for employees while removing the burden from employers. With an onsite health clinic from Medcor, you can provide prompt access to quality care while controlling your overall costs.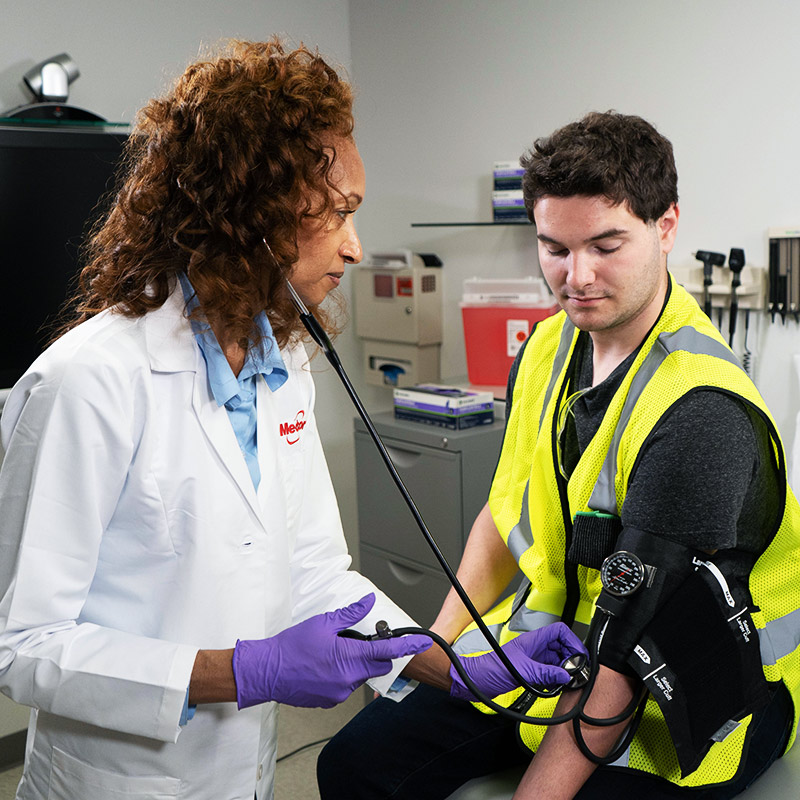 Our onsite clinics can be located in or near your business, offering care for on-the-job injuries or essential care services that improve your workers' overall health. Having an onsite clinic ensures convenient access for employees (including walk-in, same day and virtual appointments) and reduces time away from work to obtain care. Being able to respond to injuries and illnesses quickly has been proven to improve outcomes, get employees back to work faster and reduce the cost of work-related injuries.
Medcor offers an onsite clinic solution to meet your company's unique needs. Our specially trained healthcare staff provides more than just care for accidents at work; they can offer routine physical exams, drug and alcohol testing programs, chronic condition screening and more. With an onsite clinic from Medcor, you can take the best care of your employees while decreasing your overall costs.
How Onsite Clinics Increase Quality of Care
Bringing Medcor onsite to your workplace with an employee clinic means employees have an advocate who can help them with work-related injuries, preventative screenings, urgent care conditions, testing, return-to-work programs, preventative medicine, health coaching and more.
Because we are onsite, our early intervention means that health concerns are addressed before a claim can happen. When referrals are necessary, Medcor navigates patients through provider selection and the traditional healthcare system to ensure optimal health results and the most savings.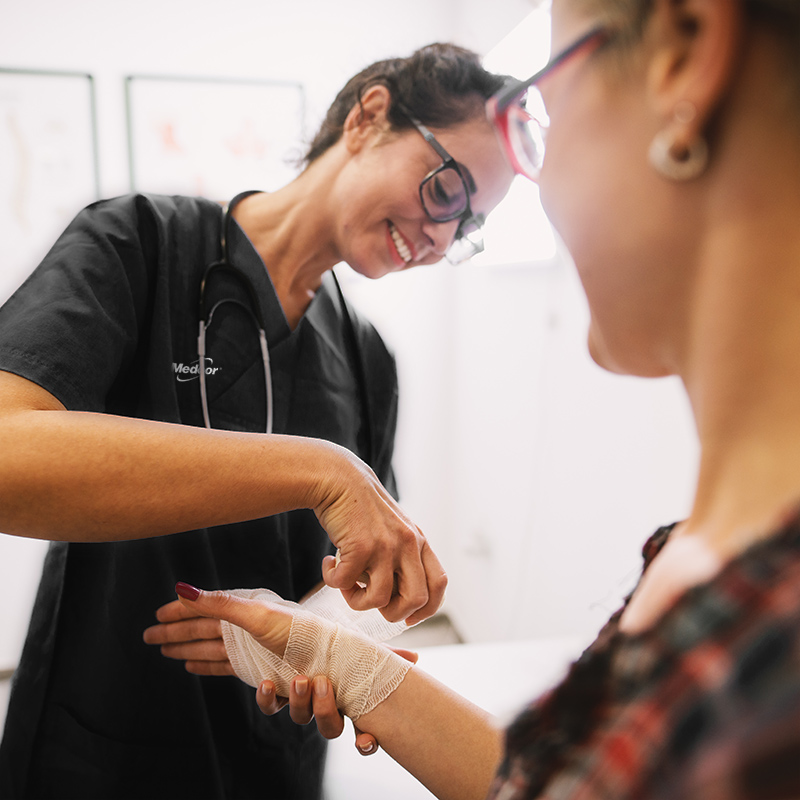 Benefits of Onsite Clinics 
Onsite health clinics provide your employees with convenient access to medical care for injuries and essential care services. For some workers, having convenient access is the difference between receiving routine care such as preventative screenings, injury and illness treatment and wellness services, and delaying medical care. You benefit from a healthier workforce and increased productivity when your employees have easy access to care. 

When employees can access healthcare services at work, they are more likely to take advantage of that care without a lot of time away from work. This results in healthier, higher-performing employees. 

Most work environments pose some level of occupational risks or hazards. Onsite clinics can help you track and identify common injury sources — across multiple locations — and mitigate risks, reducing further injuries and accidents. 

For those cases where employees can be treated with first aid, there is no need to create a workers' compensation claim. When an employee does require offsite care, our advocates can navigate them to appropriate, in-network care resources, decreasing your costs. 

Injured employees get the oversight they need to ensure they are healed and prepared to return to duties safely following an on-the-job injury. 

In cases where offsite referral is necessary, Medcor offers unbiased care navigation, resulting in a higher utilization of in-network services. 

Our onsite clinics use patented technology and algorithms to deliver consistent care recommendations across multiple locations. 
Medcor's Onsite Clinic Services
Medcor onsite clinics provide your employees with valuable health services, including:
24/7 Injury and Illness Triage
This onsite clinic enhancement allows your employees off-hours access to quality care, allowing for next-day referrals to your onsite clinic. This reduces your costs of offsite medical care. Our Teletriage service also is an option for those worksites too small to support an onsite clinic.
Physical Exams
Medcor's specially trained healthcare professionals offer pre-hire, annual and post-injury exams within a convenient worksite setting. When appropriate, they provide unbiased care navigation for a higher utilization of in-network services.
Medical Surveillance Testing
Medcor's medical surveillance program provides a systematic approach to ensure your workplace is safe and free of occupational hazards. We offer site-specific surveillance programs unique to your organization, including exposure monitoring for potential hazards or unregulated chemicals.
Athletic Trainers
Employ a proactive strategy for injury prevention and intervention by incorporating athletic trainers into your worksite. By conducting ergonomic assessments, implementing stretch and flexibility programs, and intervening at the early signs of symptoms, employees can achieve comprehensive worker health.
Immunizations
Remove barriers to routine vaccinations, including time and access, by offering onsite immunizations.
Physical and Occupational Therapy
With skilled onsite physical therapy services, workers can get back on their feet more quickly, completing their treatment plans and returning to work safely.